Restoration of Tile, Natural Stone, Concrete, and Epoxy Garage Floors
Totally Restored Inc. is a professional stone cleaning and restoration company that specializes in services ranging from performing routine maintenance on stone floors and granite counter tops to solving complex tile, grout and stone problems. Our Partners combined have been in the floor restoration business for over forty years and with our knowledge we can help you to preserve and maintain your investment of lasting beauty in natural stone.
We provide solutions for any type of floor surface problem or floor enhancement requirements for the homes of the Coachella Valley. Our expertise and professional craftsmanship can provide excellent professional services on projects large and small.

We can restore your Stone, Rock, Tile and Marble to its former glorious luster and shine. We specialize in the TOTAL RESTORATION of your Interior floors, Garage floors and Exterior floors, walkway and swimming pool surfaces. One of our specialties is to restore your garage floor surface to a customized beautiful look with optional logo's, as well as minimizing the maintenance requirements.
Have cracks in your concrete floor? Call us!
Finishing, normal wear and tear and water damage, are a few of the common problems that we have encountered with our past customers homes. These problems were quickly solved with our expertise and continuing education of all new proven products that are available to keep the customer homes in excellent condition.
Restoration lasts much longer than polishing and will last 3-5 times longer. Polishing merely fills in scratches so, you can trust us to provide solutions that work for you.
Satisfaction is guaranteed so, you can take comfort in knowing that our solutions, accurate timeframe, price, and clean-up will be included in the exceptional profession service we provide.
Our Process will provide maximum protection for your Mexican Pavers Flooring. After using the correct chemical products to strip, wipe clean, applying a penetrating-sealer and then a wet gloss sealer, your Mexican Pavers Flooring, will add beauty to your home.
Marble is a natural stone in a class by itself, and for an air of sophistication and artistry, marble is the classic choice. Marble tiles and slabs are ornate and alluring with a naturally elegant appearance, and are suitable for a variety of effects. For an application such as a front hallway or foyer, marble tile flooring certainly sets an affluent and professional tone.
Your Tile has been ground and polished and sealed with a penetrating Tile Sealer. This protects your surface from immediate stains, but no spillage should be ignored and allowed to soak and dry into the floor. Good housekeeping procedures require that your floor remains clean and beautiful.
Please contact us for a free inspection and professional quotation.
(760) 413-3817
Looking for a Gorgeous and Long-lasting Garage Floor?
Look nowhere else! We Specialize in Epoxy Garage Floors.
Totally Restored can epoxy your garage to give it an amazing look and feel. You can choose the perfect fit for your home from our large selection of colors and textures. Plus, our epoxy coatings are durable, long-lasting, and easy to maintain, adding beauty and value to your home. So, you can enjoy your new garage floor for years to come.

Our team is experienced in installing epoxy floors of all kinds, so you can be sure that we will find the perfect solution for your needs. We want you to be thrilled with your new garage floor and will work hard to ensure that happens. Our team is passionate about garage floor restoration around Palm Desert, CA, and giving homeowners the best possible service.

We wish to rekindle your love for your garage.
For a free consultation on our epoxy garage floor service in Palm Desert, CA, contact us right away!
What Do You Know About Epoxy Garage Flooring?
Epoxy flooring is a type of flooring that consists of an epoxy resin base with a polyurethane
topcoat. Epoxy floors are strong and durable, making them ideal for high-traffic areas such as
garages.

Epoxy garage floors are available in a variety of colors and finishes, allowing you to customize
the look of your floor. You can also add speckles or flakes to the epoxy mixture to create a
unique look for your floor. Epoxy garage floors are easy to install by hiring a professional.
Is It Worth Putting Epoxy on The Garage Floor?
Epoxy is among the best materials you can use to safeguard your garage floor. This tough, durable coating helps resist staining and fading and is easy to clean. Epoxy also provides a non-slip surface, making it ideal for garages with a lot of foot traffic.
In addition, epoxy flooring is highly resistant to heat, chemicals, and oil spills, making it an ideal choice for garage floors. If you're looking for a floor coating that will stand up to the rigors of everyday life, epoxy is the way to go. If you are considering epoxy for your garage floor, here are some benefits of using it.
Advantages Of Epoxy Garage Floor
Some of the main advantages of epoxy floors include:
Improved durability: Epoxy can help extend your garage floor's life by protecting it from wear and tear. This can be extremely helpful if you utilize your garage for activities that produce a lot of debris or have a lot of foot traffic.
Improved aesthetics: Epoxy floor in Palm Desert, CA, can give your garage a clean, polished look. This may even boost the value of your property if you ever decide to sell, making time spent in your garage more enjoyable.
Enhanced safety: By providing a non-slip surface, epoxy floors can make your garage safer. This is particularly crucial if you frequently have visits from elderly relatives or little children.
Improved resistance to stains and spills: Epoxy floors is easy to clean and resist staining from oil, grease, and other common garage chemicals.
Improved comfort: Epoxy floors are softer than concrete, so they're more comfortable to stand on for long periods of time. This can be a major advantage if you spend a lot of time working in your garage.
Super fast: You can have an Epoxy Garage Floor from start to finish in 48 hours.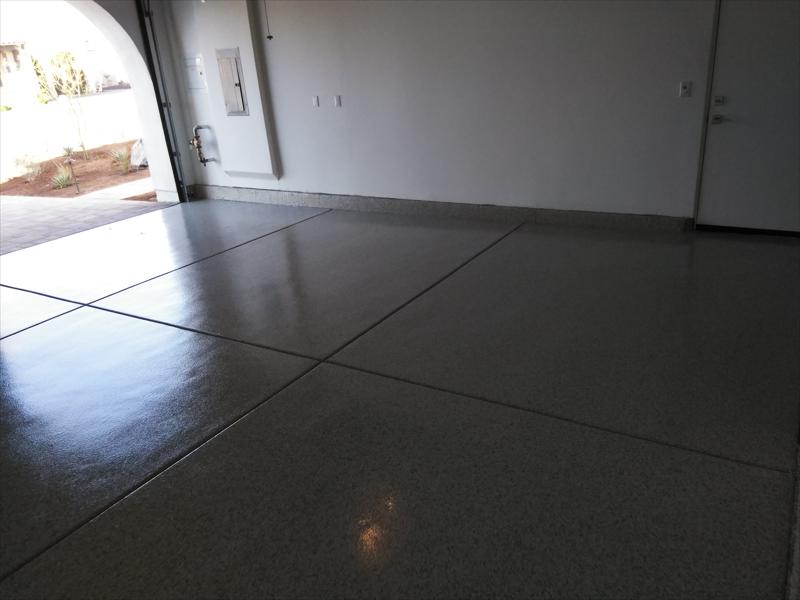 What Is the Lifespan of The Epoxy Floor In The Garage?
The lifespan of an epoxy floor will vary depending on several factors, such as the quality of the
epoxy and the amount of traffic the floor receives. However, in general, you can expect an epoxy floor to last for almost a decade with proper care and maintenance.
Is Epoxy Flooring Cheaper Than Tile?
The cost of epoxy flooring will vary depending on the size of your garage and the quality of the
epoxy. However, in general, epoxy flooring is cheaper than tile flooring.
Can You Put Epoxy Floor Coating Over the Concrete?
Yes, you can put epoxy floor coating over concrete. This is a common practice because it can help to protect the concrete from wear and tear.
How Can I Make My Epoxy Floor Last Longer?
There are a few things you can do to extend the lifespan of your epoxy floor, such as:
Regularly clean and sweep the floor to prevent debris from building up.

Applying a fresh epoxy coat every few years protects the underlying layer from wear and tear.

Avoiding using harsh chemicals or cleaners on the floor.
Epoxy Garage Floors Palm Desert CA
If you are looking for a durable, easy-to-maintain, and attractive flooring option for your garage
in Palm Desert, CA, epoxy will be perfect.

Epoxy floors are becoming increasingly popular in garages due to their many benefits.

Here are just a few reasons why you should consider epoxy for your garage floor:
Epoxy floors are durable and can last many years with proper care and maintenance.
Epoxy floors are easy to clean and require minimal maintenance.
Epoxy floors can resist stains and spills, making them ideal for garages that see a lot of traffic.
Epoxy floors can give your garage a clean, polished look.
The Epoxy Floor Near Me (Palm Desert, CA)

Our team can help you choose the right color and type of epoxy for your needs, and we will work with you to ensure that the installation process goes smoothly. We understand that choosing the right flooring for your garage is a big decision, and we are here to help you every
step of the way.
Give Totally Restored a call if you're in the Palm Desert area and need your garage floor restored! We would be happy to help.

Garage floors can be restored with epoxy coatings. Epoxy garage flooring is a great way to
protect your concrete and add some shine to your space.